Missouri is often nicknamed the "Show-Me State", located in the Midwestern region of the United States. Missouri is a popular tourist destination. Its wild open spaces, sophisticated cities, and country sights. Besides that, there are so many castles in Missouri for you to visit.
Add castles to the list of Missouri's attractions. From French-inspired chateaus to a city prison, here are some of the best castles in Missouri.
1. Ha Ha Tonka Castle in Camdenton
Ha Ha Tonka Castle, also known as Ha Ha Tonka Ruins, is a historic site located near Camdenton, Missouri.
The Ha Ha Tonka Castle was originally intended to be a private mansion in the early 20th century. Construction began in 1905 by Robert McClure Snyder, a Kansas City businessman. The mansion was designed to resemble European castles and featured stone walls, turrets, and archways. But in 1906, Snyder died in one of Missouri's first car accidents and failed to see his dream house complete.
After the Synder family, it became a hotel and lodge, and the building burnt down. Then, the ruins were eventually acquired by the state of Missouri in 1978.
Visitors can explore the stone remnants of the mansion, which overlook the beautiful Lake of the Ozarks, and enjoy hiking trails and scenic overlooks within the state park.
2. Bothwell Lodge State Park in Sedalia
Bothwell Lodge was built in the early 20th century as the private residence of John Homer Bothwell, a prominent local politician and businessman. An old 12,000 square-foot castle with a three-story, 31-room mansion, perched atop a bluff overlooking the Missouri River Valley. Bothwell Lodge is constructed of native stone and features a unique combination of architectural styles, including Arts and Crafts, Prairie, and English Country styles.
After John Bothwell's death in 1929, the lodge remained in the family until 1936, when it was donated to the state of Missouri to be used as a public park. Travelers can picnic on the sprawling grounds and take a cycle along the three-mile hiking and mountain biking mountain trail.
3. Selma Hall (Kennett's Castle) in Festus
Kennett's Castle, also known as Selma Hall, is a historic mansion and estate located in Jefferson County, Missouri along the Mississippi River. It was built in 1854 as a private residence and is one of the finest antebellum homes in Missouri. Inspired by George I's Castello di Vezio in Lake Como.
The castle has nine bedrooms, six bathrooms, and a ballroom. It is made of limestone and has turrets, towers, and a crenelated roof.
The castle is now a bed and breakfast and is open to the public for tours.
4. Chateau Charmant in Fordland
Chateau Charmant is white castle in Missouri. Unlike many castles, Chateau Charmant is relatively new, built the castle in 2003 inspired by a 14th-century French chateau. The Chateau is a private home built by a California couple in 2003. This is the world's most formidable castle constructed by the most diminutive crew.
Chateau Charmant is a popular wedding venue. It has also been used as a filming location for a number of movies and television shows.
Chateau Charmant offers tours by appointment and events throughout the year, like Princess Tea and a Great Gatsby soiree.
5. Cupples Mansion in St. Louis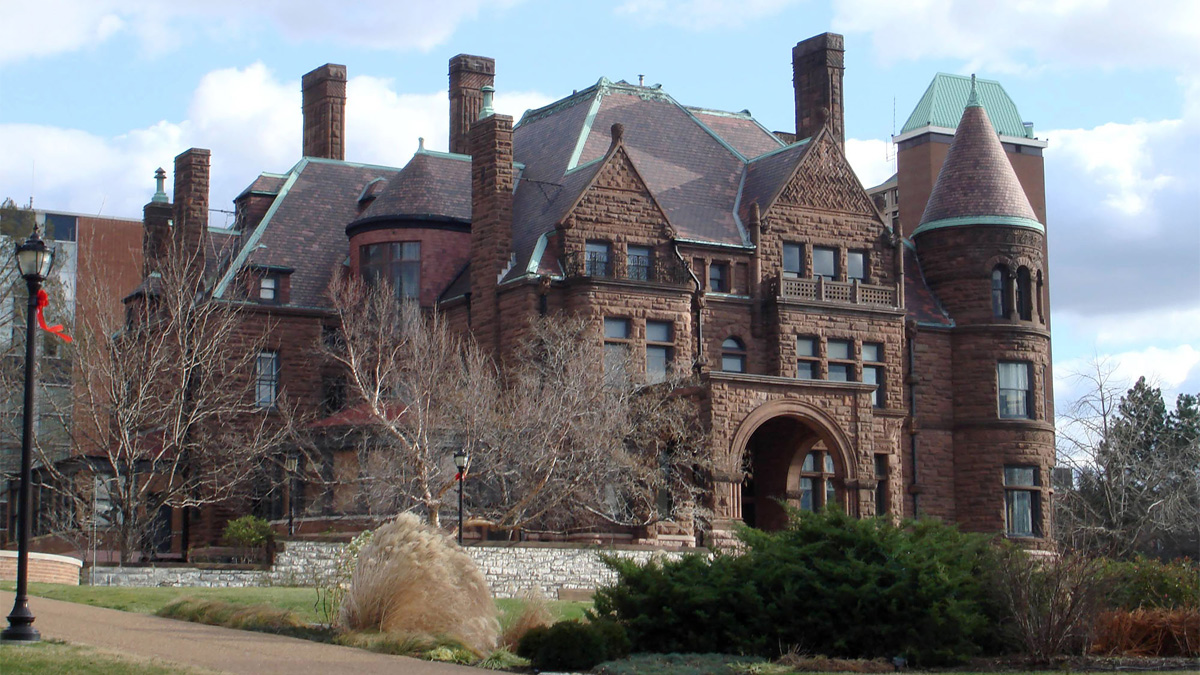 Cupples Mansion is a historic mansion in St. Louis, Missouri, constructed from 1888 to 1890 by Samuel Cupples. The mansion is a stunning example of Richardsonian Romanesque architecture, characterized by its robust stone construction, rounded arches, and intricate detailing.
The Cupples Mansion consists of four stories and a basement and features over 42 rooms, including a large reception hall, grand staircase, and various sitting rooms. The mansion is also known for its stained glass windows, which were created by Louis Comfort Tiffany.
After Cupples died in 1912, the Mansion remained vacant until the St. Louis University purchased it. Today, the public can enjoy Cupples Mansion as an art gallery/museum. Occasionally, Cupples Mansion accessible for special events and private tours.
Pythian Castle is a historic building located in Springfield, Missouri. Construction of Pythian Castle began in 1913 and was completed in 1914. The castle was designed in a mix of architectural styles, incorporating elements of Gothic Revival and Romanesque Revival. It features a distinctive appearance with turrets, battlements, and other medieval-inspired details, giving it the appearance of a true castle.
Built by the Knights of Pythias, it was originally an orphanage and vulnerable women's home. In 1941, the US military took control of the building and used it as a German and Italian prisoner of war camp throughout World War II.
In recent years, Pythian Castle has been restored and transformed into a popular event venue and a tourist attraction in Missouri. It hosts various events, including tours, ghost hunts, murder mystery dinners, weddings, and other private gatherings.
7. Kansas City Workhouse in Kansas City
The Kansas City Workhouse is a historic correctional facility located in Kansas City, Missouri. Constructed in 1897 and designed by the architect John McKechnie. Used to house prisoners petty offenders.
The Kansas City Workhouse houses a kitchen, a guard room, a dining hall where concerts were held frequently, bathrooms with king-sized bathtubs in two stories of Roman-influenced architecture.
In 1972, the Kansas City Workhouse was officially closed, and the remaining inmates were transferred to other facilities. The site was subsequently repurposed and used for various purposes.
8. Chateau Pensmore in Highlandville
Chateau Pensmore, also known as Pensmore Mansion, is a massive private residence located in Highlandville, Missouri. The mansion is the creation of Steven T. Huff a former CIA employee and successful entrepreneur.
The five-story castle, which started construction in 2009, contains thirteen bedrooms and fourteen bathrooms and can withstand a bomb blast, tornadoes and earthquakes.
It is essential to note that Chateau Pensmore is a private residence and not open to the public. However, it is available for rent for events. Huff has said that he eventually plans to open the castle to the public for tours.
9. Twin Turret Farm and Castle in St. Charles
Twin Turret Farm and Castle Nestled in the Route du Vin Trail vicinity, the Hawn State Park and the Mark Twain National Forest provide dazzling views from the castle. This Castle built in 1905 by a man named William J. Hickey, who wanted a home that resembled the castles he had seen in Europe. The castle has two turrets, a crenellated roof, and a stone facade.
The castle is located on 100 acres of land and includes a lake, a waterfall, and a forest. The property also has a number of outbuildings, including a carriage house, a barn, and a gazebo.
The castle is decorated in a Victorian style and has nine bedrooms, nine bathrooms, and a ballroom. Also, this castle comes with a private lake and indoor swimming pool.
Twin Turret Farm and Castle is a popular destination for weddings, events, and weekend getaways in Missouri. It is also a popular spot for photographers and artists.
10. Sky High Castle in Sullivan
Sky High Castle is a private residence in the Redings Mill area of Joplin, Missouri. Sky High Castle is believed to have been constructed from 1927 to 1930.
The European-style stone castle boasts hand-hewn beams, a massive stone fireplace, cast-bronze ceiling fans, large turret and battlements, rock wall terraces, and a breathtaking view of the Shoal Creek Valley. The castle has a four-story tower, crenellations along the roofline, and a moat.
The castle is not open to the public, but it can be seen from the road. Sky High Castle is a unique and interesting building. It is a popular destination for weddings in Missouri.
Gallery for 10 Most Beautiful Castles in Missouri